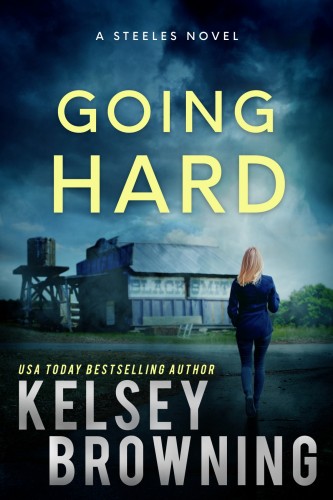 Slick sports agent Griffin Steele is living the highlife in Los Angeles, far from the shadow of the North Carolina mountains where he grew up. But when his hometown falls on hard times and needs his help, Grif reluctantly agrees to commute between coasts. He never expects the lush scenery, in the form of pretty tomboy Carlie Beth Parrish, to be such a temptation.
After an impetuous one-night stand with Grif Steele fifteen years ago, hardworking blacksmith Carlie Beth has tried to make a living and raise her daughter in the hometown she loves. Then, too-sexy-for-his-Rolex Grif blows back into town like the perfect storm, making Carlie feel less like a thirty-something mom and more like an infatuated teenager.
When a stalker targets Carlie Beth, Grif can't help but step in to protect her. But once he discovers the fourteen-year-old secret she's been keeping from him, will he embrace the truth or will he turn his back on Steele Ridge and Carlie Beth forever?
This was my first book by Kelsey Browning, but it definitely won't be the last. I truly couldn't put this down, and no matter which brother gets the next story, I'm definitely reading it. Steele Ridge is going on my automatic buy list!

It's the type of book that keeps you turning its pages even though it's time to cook dinner or go to sleep.

This is definitely a book that is built around suspense and a serious mystery. There is also a lot of humor, smoldering heat and heart - all things Kelsey Browning does exceptionally well.

If you only read one book this month, make it Going Hard by Kelsey Browning!

One of the things [Browning] does so well is develop the interactions between family members based on love and humor. We all know you don't get to pick your family. If it were possible, however, I want one that Kelsey has written.

This book is an absolute gem! I wasn't expecting the turn this story just took; it has quite an unexpected surprise that is jaw-dropping good! Murder, mystery, thrills, and passion continue to keep you glued to the pages...