Justice Team Series, #6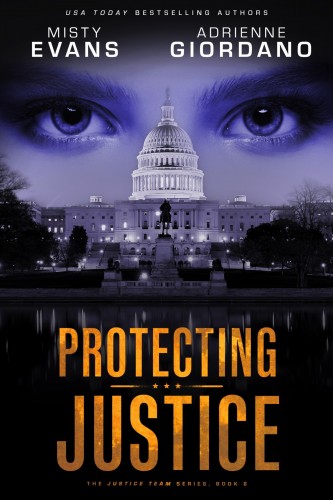 As the premier political spin-doctor in the U.S., Fallyn Pasche can fix any problem--except her own. Her twin sister, Heather, a United States Senator, has been murdered, her father is barely speaking to her, and someone is after coded files Heather hid in a private safe. In order to decode the files and figure out what happened to her twin, Fallyn turns to the Justice Team. What she doesn't expect is the sexy bodyguard who shows up needing a little personal fixing of his own.
Tony Gerard sees failure every time he looks in the mirror. The former Supreme Court police officer lives with the knowledge that the Chief Justice—a man who was like a father to him—died on his watch. Now he's sure he can't protect anyone. When his first assignment for the Justice Team lands him in the media spotlight, working side-by-side with the country's foremost political fixer, Tony wants to run the other way. But Fallyn's devil-may-care attitude and tantalizing beauty bring out all of his protective instincts.
As Fallyn and Tony peel back the layers of a government scandal that threatens to bring down the most powerful man in the world, sparks fly along with the intoxicating danger. Desire and passion escalate with their perilous search for the truth as they find relief in each other's arms from their respective demons. When an unexpected enemy puts Fallyn's life on the line, Tony is forced to face his own failures in order to help her conquer hers. But will he once again fail to protect someone he loves?
Filled with government cover ups, secrets, and threats, Protecting Justice has many layers to it that are slowly peeled away…only to find a few more to dig through.

The story has laughs, murder, suspense, pain, secrets, and heartbreak.

Protecting Justice is very well paced and kept right on going! So well written, it's hard to believe there are two different authors writing this together.

Evans and Giordano weave a masterful tale of suspense with two strong leading characters that drive the story. Any reader who enjoys a great romantic suspense should read this book.

Sparks definitely fly between these two and their passion can't be contained...

The mystery, suspense, passion and humor make for a perfect reader getaway. . . I found myself reading this book everywhere I could and staying up late at night because I couldn't get enough.

...a sexy romance and you have a must read novel for romantic suspense fans.

This has an outstanding plot with outstanding characters, their writing style blends well together giving you a easy smooth read that will keep you heart beating over time.

Filled with government cover ups, secrets, and threats, Protecting Justice has many layers to it that are slowly peeled away.