Justifiable Cause, #1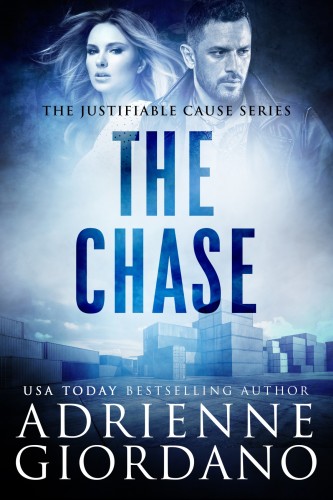 Sergeant Gabe Townsend's butt. Working together on a high-profile task force charged with busting sales of counterfeit goods has been rocky from the start. And Jo's penchant for trouble is as difficult to ignore as her spectacular legs.
The world of knock-offs isn't as frivolous as it appears. The purses are fake, but the danger is all too real—and Jo seems hell-bent on putting herself in the middle of it. Her investigations have uncovered valuable leads for Gabe's team, but they've also drawn the wrong kind of attention.
Now, she's on the radar of a mysterious smuggler not afraid to use violence to evade the law. At the risk of their lives—and their hearts—Gabe and Jo must find him before he finds them.
The Chase is a great start to what appears to be another very promising series by Adrienne Giordano. It has everything it takes to be a successful romantic suspense; a hot as hell male lead, strong but feminine female lead, great supporting characters, a superior plot line, witty and engaging dialog, and a simmering heat that will have you screaming for more!

I can't wait for the second book in this series to see what happens next in their relationship! I loved every minute of this book and am now a big fan of Adrienne Giordano!

I absolutely recommend this novella to everyone-be forewarned, after reading the novella you will go crazy waiting for the full length story of these characters.