Justice Team Series, #4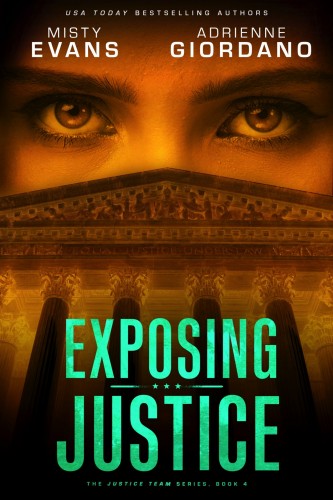 As a Public Information officer for the US Supreme Court, Hope Denby knows how to spin a story. A journalist at heart, she loves being in the middle of a juicy scoop and has her sights set on future Press Secretary for the White House. When the Supreme Court Chief Justice is accidentally killed in a road rage accident, and a high-profile conspiracy blogger claims it was premeditated murder, Hope has to shut down the paranoid blogger—which should be a slam dunk until she discovers he's not as crazy as she thought and she has more in common with the secretive, hard-hitting investigator then she'd like to admit.
Cyber resistance against government corruption isn't just a theory for Brice Brennan on his blog, The First Amendment Patriot. As a former ATF agent who blew the whistle on his superiors, he's no stranger to government cover-ups and scandals. An anonymous tip on the Chief Justice's death sends him searching for answers. What he finds is a sexy, young idealist about to blow his private, behind-the-scenes world to pieces.
Brice and Hope couldn't be more opposite, but exposing justice makes them partners—and puts them on the track of a ruthless killer. As their investigation takes them into the dark underbelly of Washington politics and murder-for-hire, it also takes them into the bedroom where passion erupts and emotional walls crumble. But when the killer makes an attempt on Hope's life, will Brice be able to keep her safe? Or will blowing the whistle on corruption and greed mean losing the one person he's allowed himself to love?
The writing team of Misty Evans and Adrienne Giordano delivers a story with such an easy flow that it makes you wonder how two voices can come together so seamlessly. The dialogue between the characters and continuity of the story line was perfectly orchestrated to deliver a five star read.

I find them fast moving and engaging with a lot of laughs thrown in through the thoughts of the characters. The collaboration of these two authors seems to work really well and it provides the reader with hours of entertainment.

What I also love about this series is the seamless writing styles of Misty and Adrienne.

The pictures these authors paint of the characters' inner most thoughts leave me laughing and wanting more.

The plot was well developed and had enough twists and turns to keep things interesting. This book delivers everything you would want in a romantic suspense and then some.

Exposing Justice was a book I didn't want to end because I loved the characters so much!

Suspenseful, exhilarating, and intense, Exposing Justice was the perfect weekend read.

Giordano and Evans continue to provide smart characters, excellent dialogue, and a great blend of sex and romance that is not too explicit yet still steams up pages.

Exposing Justice is an exciting, mysterious, fast paced on the edge of your seat entertaining and just plain amazing story! I highly recommend this book!

This book was hard to put down. It pulls you in from the beginning and doesn't let go until the end.